Welcome to the R-CAT website. The Riparian Condition Assessment Toolbox (R-CAT) is a suite of stream network assessment tools. These tools are designed to delineate valley bottoms, assess riparian vegetation, evaluate floodplain condition and estimate recovery potential of riparian areas. The stream network models consist of the following: the Valley Bottom Extraction Tool (V-BET, Riparian Vegetation Departure (RVD) tool, Riparian Condition Assessment (RCA) tool and Riparian Recovery Potential (RRP) tool. These tools are intended to help researchers and managers assess riparian condition and recovery potential over large regions and watersheds.
These network models were first developed and implemented across the Colorado Plateau Ecoregion and the state of Utah (see Utah Implementation page). The models are now being run for the Interior Columbia River Basin (see Columbia River Basin Implementation page) .
The R-CAT models can be run with nationally available existing GIS datasets or high resolution landcover and DEM datasets.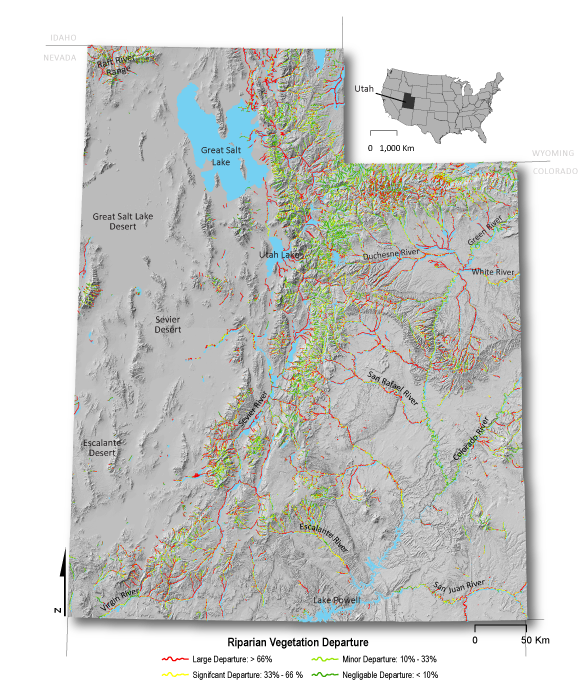 Development Team
The ETAL development team consisted of Wally Macfarlane, Jordan Gilbert, Joe Wheaton, Josh Gilbert, Chalese Hafen, Martha Jensen, Elijah Portugal, and Peter McHugh, Jenna Walsh, Tyler Hatch, Dylan Baum.
Publications
Limitations of Outputs Driven with Nationally Available Data
Interested In Helping?
If you are interested in helping us improve R-CAT please contact us. We view these R-CAT products as a first iteration and as better input data is available the output products will improve proportionally.
R-CAT products Financial Support
The development of R-CAT was primarily initially funded by:
The Bureau of Land Management (BLM),
The Utah Department of Natural Resources, through the Utah Endangered Species Mitigation Fund (ESMF), and
The Utah Division of Wildlife Resources (UDWR) through Pittman-Robertson Wildlife Restoration Act (PR) funds.
Subsequent funding and support for application of these products in the Columbia River Basin, has come from Bonneville Power Administration through Eco Logical Research.
Toolbox

Documentation - How to Run
Source Code
RCAT is fully documented for those looking to apply the scripts or coders looking to extend the scripts. The current Python source code is open source and we have developed ArcGIS tool boxes. Source code is available at https://github.com/Riverscapes/RCAT.
Some R-CAT Outputs